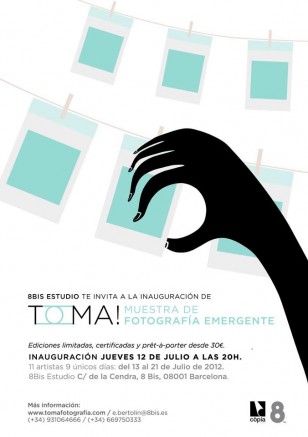 Estáis todos  invitados a  la inauguración de TOMA! que tendrá lugar el jueves 12 de julio a las 20 en 8 Bis Estudio, Barcelona
TOMA! es una nueva propuesta cuyo objetivo es dar visibilidad a jóvenes artistas y hacer accesible
la compra de fotografía de autor al gran público. TOMA! Muestra de Fotografía Emergente apuesta por una fórmula sencilla: Ediciones limitadas, certificadas y prêt-à-porter desde 30 euros.
Ponemos a tu disposición más de 120 obras de los fotógrafos: Maud-Sophie Andrieux-Laclavetine, Rosa Basurto, Carla Cascales, Barbara Ghidini, Davide Pellegrini, Maria Daniela Quirós, Lamberto Ramón, Matteo Rebuffa, Santos Román y Olivier Valiente.
No te pierdas este nuevo evento independiente que va más allá del modelo expositivo tradicional.
Durante 9 únicos días: del 13 al 21 de Julio de 2012
Si no puedes asistir a la exposición y te gustaría adquirir obra expuesta en TOMA! ponte en contacto con Elizabeth Bertolín Mercado a través de: e.bertolin@8bis.es
---
"Sogni O Bi-Sogni" are 3 short photographic stories that aims to explore the tension between the external (public spaces in Barcelona) and the internal (the privacy of my home). The two roads are intrinsically linked together whilst at the same time being diametrically opposed to one another. The overriding message is the autonomy of experience – everyone can perceive the relationship between inside and outside and this starting point is key to understanding the darkness and light of life in general. The public and private natural light is a fundamental element of the works.
I. In the crane's forest.
II. Behind the curtains.
III. Zoetrope.
---