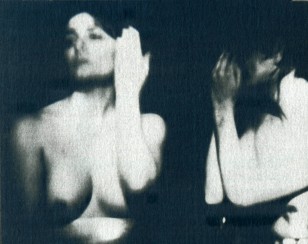 _
Soy Bárbara una fotógrafa autodidacta que trabaja y experimenta con diferentes formatos analógicos y técnicas fotoquímicas.
En mis proyectos me sirvo de la materialidad e inmaterialidad de la fotografía así como de la performance para generar imágenes secuenciales que me empujan más allá de lo conocido, más allá de los límites aparentes.
Las narrativas que compongo derivan de las experiencias emotivas personales y surgen del deseo de escenificar mis imágenes mentales, estas visiones que nacen con los ojos cerrados y que me permiten figurar un universo subconsciente, un lugar de libertad ilimitada donde la estructura de la realidad se cuestiona constantemente.
Con estas imágenes lo que intento es llegar más allá de la superficie de las cosas, más allá de la realidad fotografiable, para alcanzar mi auténtica esencia como persona.
Obras de elaboración simbólica e imaginativa que tienen como finalidad no reflejar ni definir sino abrir un camino de búsqueda personal y espiritual a través de la capacidad metafórica de las imágenes.
_
I am Bárbara, a self-taught photographer who works and experiments with different analog formats and photochemical techniques.
In my projects, I use the materiality and immateriality of photography as well as performance to generate sequential images that push me beyond the known, beyond apparent limits.
The narratives I compose derive from personal emotional experiences and emerge from the desire to stage my mental images, these visions that are born with my eyes closed and that allow me to figure out a subconscious universe, a place of unlimited freedom where the structure of reality is constantly questioned.
With these images I try to reach beyond the surface of things, beyond the photographable reality, to reach my true essence as a person.
Works of symbolic and imaginative elaboration that aim not to reflect or define but to open a path of personal and spiritual search through the metaphorical capacity of images.
---