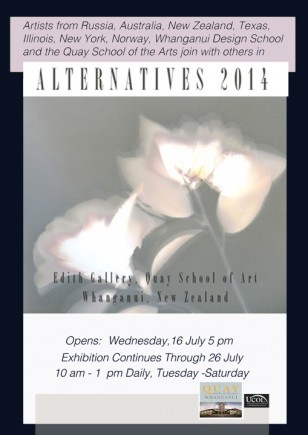 Part of the series "Autumn" will be displayed during "Alternatives 2014″.
Series of Carbon prints, stained with Indian Ink
Images captured during a trip to New England, Autumn 2012.
Alternatives, 2014, a photographic exhibition sponsored by the Quay School of Art, Whanganui UCOL, will open on Wednesday, 16 July, and continues through Sat, July 26, 2014 at the Quay School Edith Gallery on Taupo Quay across from the community Art Centre.
A wide range of photographic explorations including pinhole camera images, plastic Holga camera pictures and a sampling of various antique processes such as Cyanotypes, Gum Prints, Polaroid processes and cross processed methods. Also on display will be a range of contemporary digital explorations and inventive collage techniques.
---